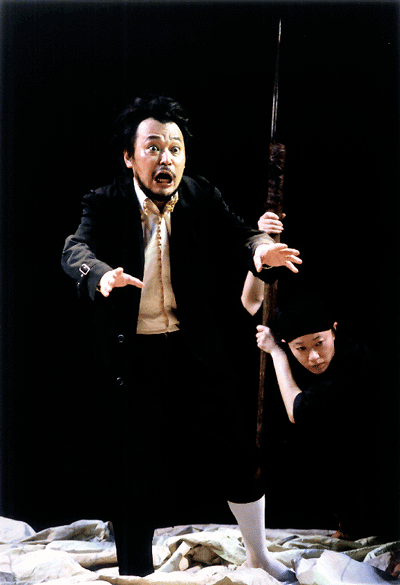 This was the third production of MOBY DICK that I directed after the productions in Norfolk and Alaska. It was also the second Japanese language production I had done after ALICE IN WONDERLAND. The production premiered in Tokyo at the Suzunari Theatre and then toured to the Piccolo theatre in Amagasaki.
The production was a collaboration with the Rinkogun company led by artistic director Yoji Sakate. Mr. Sakate is, like many Japanese directors, also a playwright and I have translated several of his plays into English. He has an interesting preocupation with whales and whaleing, which led to his interest in MOBY DICK.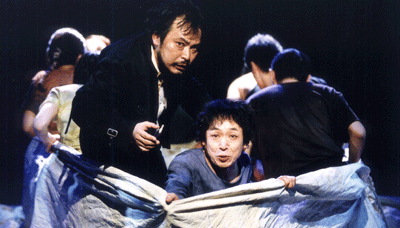 The text was a mix of original Japanese material and traslations of Melville. The structure was based on the Norfolk production but with some significant changes.
In addition to the actors of the Rinkogun company, the cast featured two actors who I had been in the Suzuki Company of Toga with; my wife Akiko Aizawa as Fedallah, and Takahisa Nishikibe as Captain Ahab.

It was both an honor and pleasure to work with the sheer power and epic imagination of Nishikibe.

Whaleing is an interesting topic to explore in Japan. The "opening up" of Japan by the Americans in the 18th Century was motivated primarily by a need for Pacific ports that Yankee whalers could use.
Whale meat is still eaten and the Japanese whaleing industry is in an extended struggle with the IWC over rights. Although we presented the issues, the production did not takes sides on the politics.